Tuesday, September 20th, 2011
Advertisers now expect each integrated marketing campaign to stand out, be attention getting, relevant to their audience, perceived as cutting edge and able to drive action or response all with the same campaign. I have heard it called a tactic, sometimes a marketing strategy, depending how well fleshed out the plan is, but there is a low-cost way of bridging the gap between print and digital and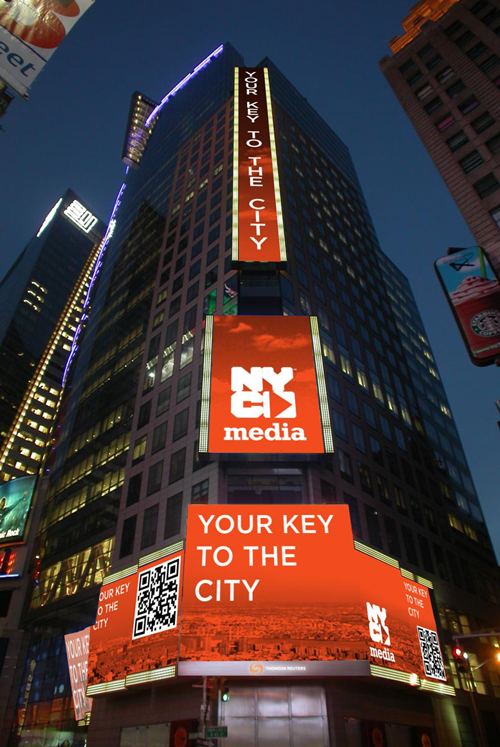 shows your customers that you are making an effort to communicate with them in the mediums preferred by them. Try using a QR code on your branded materials. QR codes are a good way of involving consumers by making an ad interactive. At the very least it will achieve more recognition of the advertisement and more traffic to the website or wherever the link of the QR code leads to.
QR codes took over NYC in June of 2010 when the Thompson Reuters Building began putting QR codes on the face of the building in Times Square so passersbys could use their smart phone barcode scanning app to scan the QR codes — which were featured in an animated sequence on the buidling from 11 a.m. to 2 p.m. When scanning the QR codes, it lead to information relating to specific agencies including 311, NYC Department of Transportation, NYCulture Calendar, NYC Business Express and City of New York Parks and Recreation.
Dubai is dedicating the entire exterior of one of their newest hotels to the movie industry,The CODE UNIQUE HOTEL at http://holtermanndesign.com/blog/qr-code-unique-hotel-dubai-studio-city/. The entire exterior of the building is a huge QR code. Reality is that the use of QR codes need not be on such a grand scale to be effective. Each anticipated result would drive different implementations.


Macy's Fall Backstage – QR Code Campaign – Scan for a chance to win a $500 Shopping Spree
is their latest integrated marketing campaign. They've integrated social media, video, mobile, and the "What's in it for me" factor is a chance to win a $500 Shopping Spree. What more could you ask for in an integrated marketing campaign that has customer interaction?
We know you can buy awareness and customer interaction, even results with bold tactics. You can test and prove that you can get increased attention and greater customer intimacy on a shoestring, if you have good knowledge of the product, audience and market by linking the web with your ad or direct response piece with a QR code, keeping your message and offer relevant and monitoring the result.
We know that timeliness is key in advertising and direct response. So offer something to your prospects that they want or need, tell them the offer won't last forever and make sure that you give them the opportunity to respond via the medium that they find most comfortable to use by employing even just one integrated marketing tactic, using a QR code. It makes it just a bit more convenient for your audience just that much easier for your customers to reach out to you.